Description
The main objective of this project is to provide uninterrupted power supply to a load, by selecting the supply source automatically from any available one out of 4 such as: mains, generator, inverter and solar in the absence of power supply. The demand for electricity is increasing every day and frequent power cut is causing many problems in various areas like industries, hospitals and houses. An alternative arrangement for power source is thus desirable.
This project employs four switches to demonstrate / activate respective failure of the source of power supply. When any of the switches is pressed, it shows the absence of that particular source. Switches are connected to the microcontroller as input signals. A microcontroller of the 8051 family is used. The output of the microcontroller is given to the relay driver IC, which switches appropriate relay to maintain uninterrupted supply to the load. Output is observed using a lamp drawing power from the mains initially. On the failure of the mains supply (which is actuated by pressing appropriate switch) the load gets supply from the next available source ie an inverter. If the inverter also fails, it switches over to the next available source, and so on. The current status, like which source is supplying power to the load is also displayed on an LCD. As it is not feasible to provide all 4 different sources of supply, one source with an alternate parallel arrangement is provided to get the same function for demo purposes. However 4 different sources if available they can be used.
The project can be further enhanced by using other sources like wind power also, and then can take into consideration the best possible power source – the one whose tariff remains lowest at a given moment.
HIGHLIGHTS
Auto supply selection
Multiple sources
embedded technology
Applied for high voltage suplly
BLOCK DIAGRAM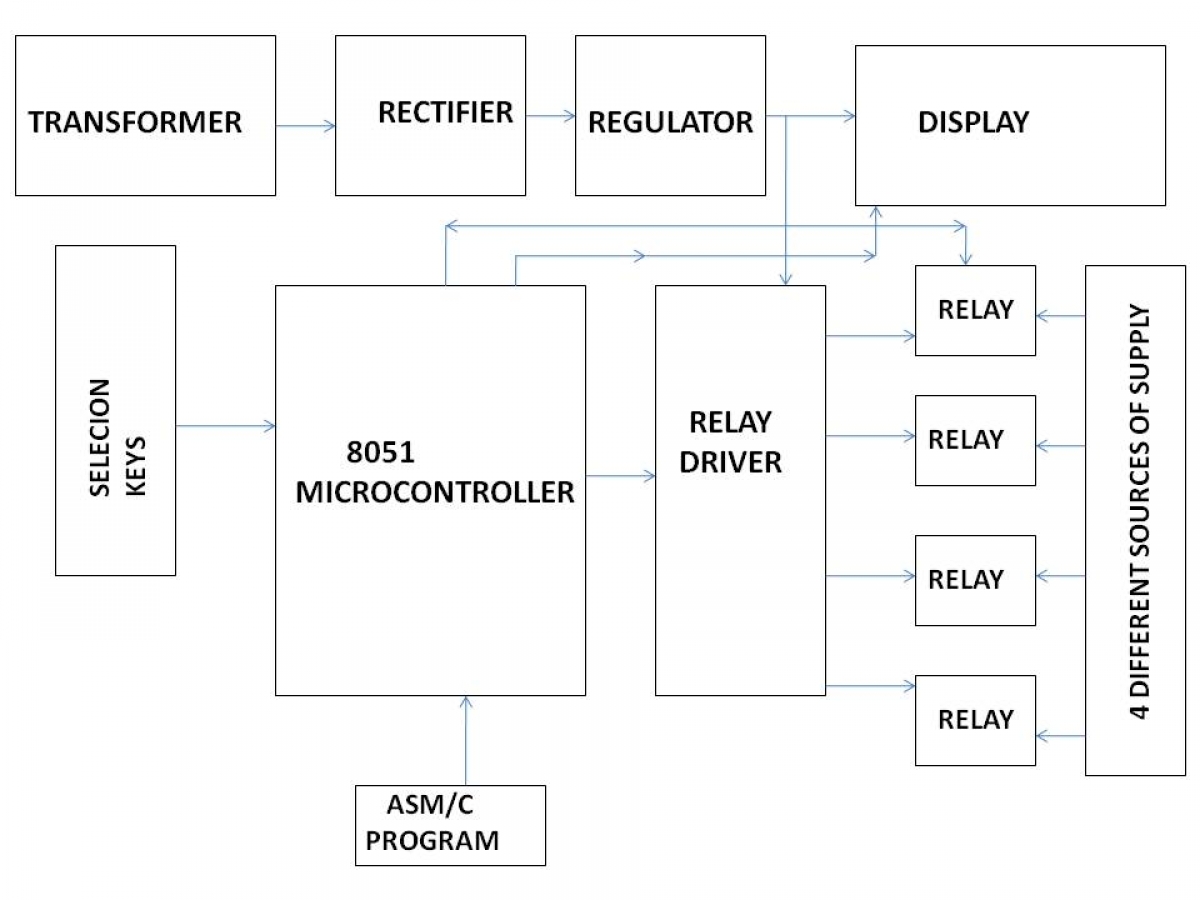 HARDWARE REQUIREMENTS
8051 microcontroller
transformer
relay
lcd display
relay driver IC
SOFTWARE REQUIREMENTS