Description
This project consists of Cradle attached with Crank mechanism driven by High torque DC motor with necessary gear set.This mechanical hardware set is controlled by arduino controller circuit which consists of Mic sensor & wet sensor.When Baby sleeping in cradle cries mic senses sound and will start swinging of cradle; When baby wets bed wet senor mounted permanently below bed will sense wetness and gives signal to micro controller to alert mother with buzzer sound.
HIGHLIGHTS
Automatic cradle starts to swing as soon as baby cries it will swing upto 10 minutes.
When baby wets bed alarm will turn on and will alert to mother.
No need of manpower to swing, it will help working mothers at less operating cost than maid.
BLOCK DIAGRAM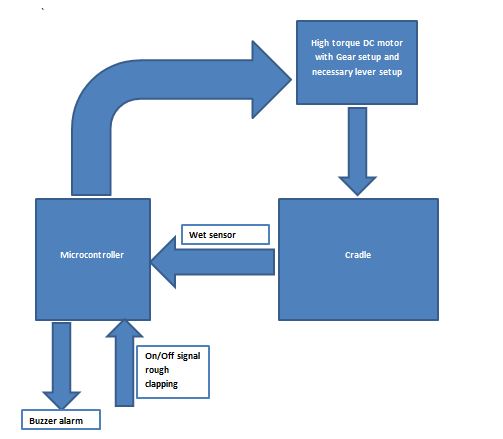 HARDWARE REQUIREMENTS
High Torque DC Motor
Gear set
Controller Circuit
Cradle
Crank Mechanism
Mic
Buzzer
Wet Sensor
SOFTWARE REQUIREMENTS