Description
The emergency diesel generators in a nuclear power plant have an important safety function-supplying emergency electrical power to maintain cooling and other vital functions. The research reviewed in this article addresses the safety implications of aging of these emergency diesel generators and the influence of aging on their reliability. Historical operational information was assembled on component and system failures and their causes. One significant research result is that the fast-starting and fast-loading test procedure mandated by Regulatory Guide 1.108 and the standard Technical Specifications have contributed to wear and degradation. Other equally important aging and degradation factors for diesel generators are identified and reviewed. A new approach developed represents a more balanced aging management program that includes (1) slow-start testing during which operating parameters are monitored.
(2) Analysis of data trends,
(3) Training.
(4) Maintenance.
This approach should improve safety by identifying aging degradation that leads to future diesel generator failures. Timely maintenance could then prev*ent actualJafiures.
HIGHLIGHTS
Exhaust smoke is not excessive & not too black in color.
Voltage and frequency are stable.
Voltage and current is stable
Engine Vibration and Sound/noise is not abnormal.
Engine temperature and pressures are normal.
There is no leakage of lubricating oil, fuel (Diesel), coolant, etc.
There are Fault indication goes to alarms.
BLOCK DIAGRAM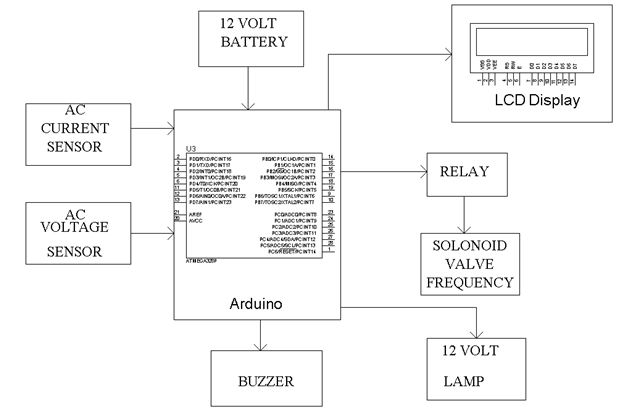 HARDWARE REQUIREMENTS
12-volt battery
Arduino
LCD
Ac current sensor
Ac voltage sensor
Buzzer
Relay
Lamp
Siren
Register
Capacitor
Diode
SOFTWARE REQUIREMENTS