Description
Nowadays the amount of power consumed by lighting and streets shares a major energy demand. The vehicles are passing over always and a part of places will be consisting of less dense areas and even no vehicle moments itself in few areas. But during the night all street lights will be on in a conventional street lighting system. To overcome this issue, proper energy-saving methods and lighting control are to be implemented. The proposed work is to have two controls, one is to switch off lights during no vehicle moments on streets and automatically switch them on when vehicles arrive and the other modes are to give less intensity light for pedestrians and to switch on bright mode during vehicle moments at sides on the roads. In this work, the LED lights are used for street arrangement, and the IR sensors are used to sense vehicle moments. The control signals of sensors have been fed to Arduino. From the proposed method the overall energy being utilized nowadays for lighting can be minimized. Moreover, automatic and intelligent control schemes are required to control the complex lighting system due to the growth of cities and standard of living.
Electrically powered street lighting has brought a sense of wellbeing and freedom from risk or danger but Street lights in town centers, traffic lights, and pedestrian crossings stay on all night. This amount of lighting is not required in that it adds no benefit to the community. Continuous ON state of street light leads to power wastage. In other cases, it is getting very difficult to analyze the failure of street lights in all places. In these kinds of situations, the effects of crime will be increasing. In our proposed project work we have analyzed these problems.
This Project work consists of a group of measuring stations in the street (one station located in each lamppost) and a base station located nearby. The measuring stations are used to observe street conditions as the intensity of daylight and, depending on the conditions activate or off the lamps. For these reasons, every lamp is designed independently to decide the activation of the light. The base station conjointly checks if any lamp is correctly operating and sends the information using the wireless network to the operator who will act in case of malfunction. 
HIGHLIGHTS
To avoid unnecessary waste of light.
Provide efficient, automatic, and smart lighting systems.
Longer life expectancy.
Energy Saving.
BLOCK DIAGRAM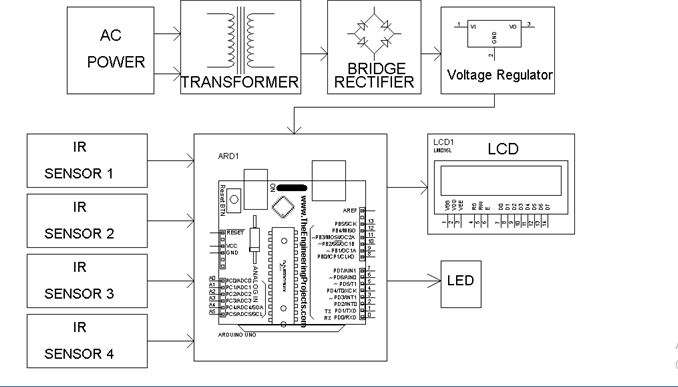 HARDWARE REQUIREMENTS
Transformer
Rectifier
Regulator
ARDUINO UNO
LCD display
IR SENSOR
Led
Resister
Diode
Capacitor
switch
SOFTWARE REQUIREMENTS