Description
ABSTRACT
India has the world's fourth largest railway networks, which carry out most of the commercial transport in India. The train transportation increased due to high speed, economical, environment friendly, safety and modern characteristics of railway system. Major problem with this transportation is the bad weather condition, which cause flaws and cracks leads to the damage of railway tracks.
This is difficult to determine manually hence the solution is provided here. For reducing the derailments, the crack detection systems were designed using Ultrasonic Ranging Techniques. This projects introduces the detection of cracks in rail road's using ultrasonic sensor. This system mainly focus to check the continuity of the railway track, if discontinuous reports the exact location of discontinuity to the nearest railway station, using GPS and GSM system.
From this method we can also predict the foreign objects like rock, animals, trees or landslides that block the railway route and information is sent to the concerned authority, stating that some foreign object is detected between those two sensor points, this can be further examined using drones or real time satellite imaging.
Ultimately this method is useful to determine, whether the railway route is suitable to travel at that instant of time or not.
HIGHLIGHTS
OBJECTIVE
Advanced project
SMS Alert
GSM and GPS based project
Rail track crack detection
Rail obstacle detection
BLOCK DIAGRAM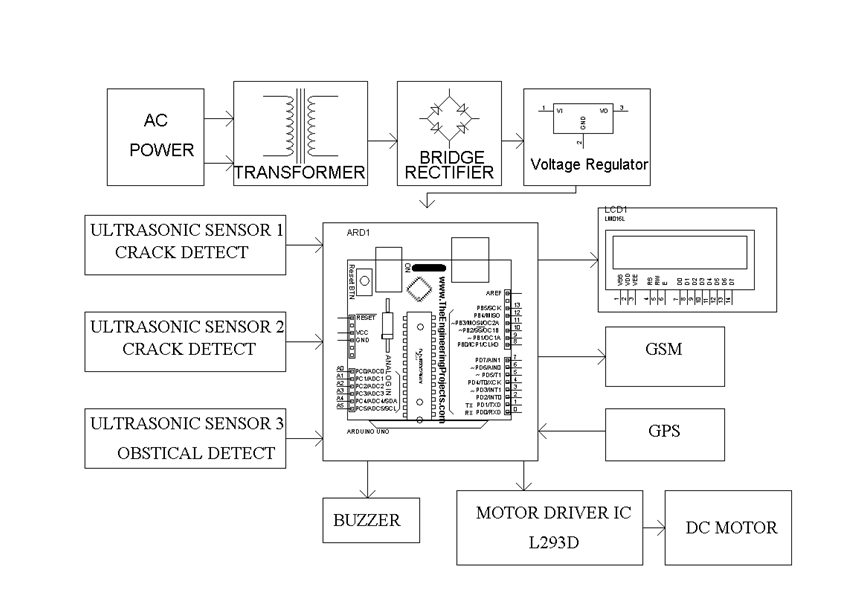 HARDWARE REQUIREMENTS
HARDWARE REQUIREMENTS
Transformer
Bridge rectifier
Voltage Regulator
LCD display
Ultrasonic sensor
GSMP
GPS
Buzzer
Motor driver IC l293d
Dc motor
SOFTWARE REQUIREMENTS
SOFTWARE REQUIREMENTS
Proteus