Description
Energy is a very important aspect of any household, industry, agriculture and so. Managing energy efficiency and conserving it intelligently for appliances is very much important. The energy usage is directly affected by Coal, oil, and so on power generation. Towards this, there has been a lot of research work carried out in developing some smart lighting systems pertaining to classrooms for conserving energy. In one another research, researchers have developed an Android-based Smart home system for monitoring the usage of power to avoid any kind of anomaly. In none of the research, researchers work towards automating the appliance control towards conserving energy. Most of them concentrate on controlling the appliances using android devices. So with the upcoming of machine-to-machine communication where devices can be connected wirelessly leading to IoT, we here have developed an IoT-based Smart Energy Management system where appliances like Fan and Bulb to start with are controlled wirelessly based on humidity and light intensity information. These inputs are used towards controlling the appliances intelligently rather than just switching them on or off. In addition, the system also keeps computing throughput the day power consumption of the appliances which gives the user knowledge of power being consumed over a period of time. These details are updated in the Cloud server. This prototype system developed has achieved energy conservation in every household
With the prevalence of the Internet of Things (IoT), smart meters have become one of the main components of smart city strategies. Smart energy meters generate large amounts of fine-grained data that are used to provide useful information to consumers and utility companies for decision-making. Nowadays, smart energy meter analytics systems consist of analytical algorithms that process massive amounts of data. These analytics algorithms require ample amounts of realistic data for testing and verification purposes. These energy meters will read the energy consumed and upload the data over the IoT page. Thus the data is stored over the web page permanently. Then add the theft as it is in a load then on the buzzer
HIGHLIGHTS
With the prevalence of the Internet of Things (IoT), smart meters have become one of the main components of smart city strategies.
Smart energy meters generate large amounts of fine-grained data that is used to provide useful information to consumers and utility companies for decision-making.
Nowadays, smart energy meter analytics systems consist of analytical algorithms that process massive amounts of data.
These analytics algorithms require ample amounts of realistic data for testing and verification purposes.
These energy meters will read the energy consumed and upload the data over IoT page.
BLOCK DIAGRAM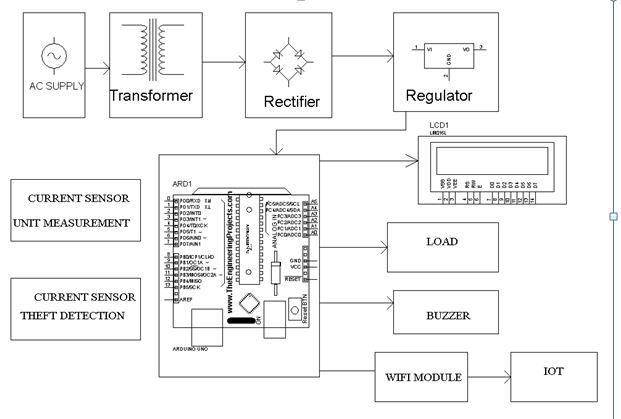 HARDWARE REQUIREMENTS
Arduino Board
LCD Display
Stepdown Transformer
Bridge rectifier
Voltage regulator circuit
ESP 8266 WIFI module
buzzer
Diode
Resistor
LED
Capacitor
SOFTWARE REQUIREMENTS