Description
The purpose of this project is to acquire the remote electrical parameters like voltage, current and frequency and send these real time values over network along with temperature at power station. This project is also designed to protect the electrical circuitry by operating a relay.
This relay gets activated whenever the electrical parameters exceed the predefined values.
This system can automatically update the real time electrical parameters continuously this system can be designed to send alerts whenever the relay trips or whenever the voltage or current exceeds the predefined limits. This project makes use of a microcontroller, as this is a prototype of the proposed project, for demonstration purpose we have used Arduino Uno here. The controller can efficiently communicate with the different sensors being used.
When we give supply to our prototype all the sensors start sensing the current, voltage, frequency and temperature and update all the real time values to the server as well as shows on the display. It compares all the real time values with the pre-defined values, if any of the values exceeds pre-defined values it sends a fault alert to the relay and buzzer as well as update it on the display. If the fault exists for the pre-set time then relay isolates the loads from the rest of the system. In the meantime, comparison goes on as before, if the fault gets cleared relays reconnect the loads with the rest of the system.
HIGHLIGHTS
Arduino based project
Remote monitoring is possible
IOT is used to monitor the parameter
BLOCK DIAGRAM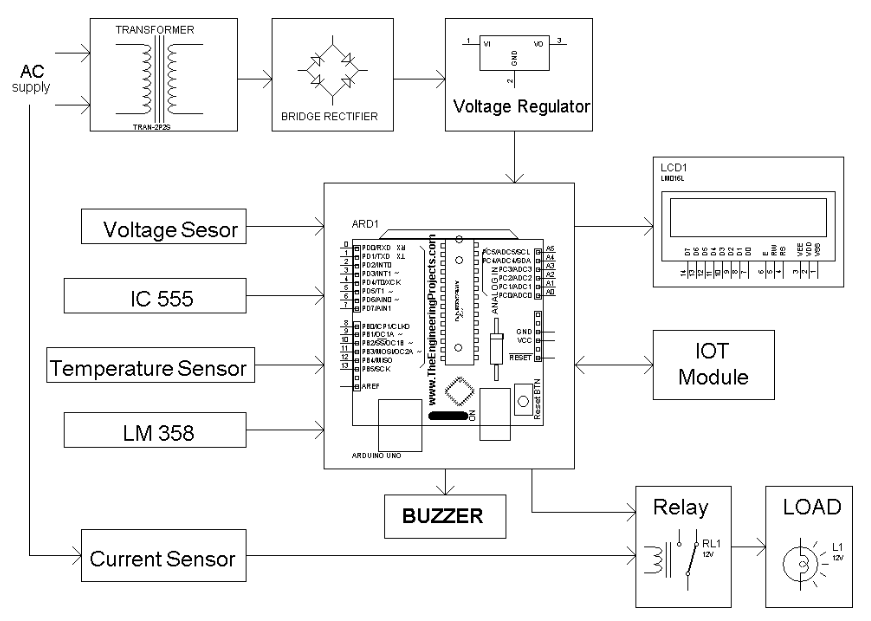 HARDWARE REQUIREMENTS
Arduino
LCD
DHT
ESP 8266
Relay
Buzzer
SOFTWARE REQUIREMENTS