Description
Agriculture, the backbone of our country nowadays is facing a number of challenges. Our system is designed to provide a solution that is one step forward toward agricultural growth. Using IoT, an attempt is made to automate irrigation. Farmers face some difficulties in switching on/off the motor. Any delay in watering may reduce production. In this context, we propose an "IoT Based Soil Analysis and Irrigation System" to help the farmer in reducing human effort and increasing the yield. The farmer can control the power of the motor even at distance.
The proposed system is used to determine the nutrient quantity of soil. As we know all the nutrients are present in the soil but what amount of nutrients are available in that particular field we can't figure out. Forthatinthisprojectwecanusethetestbenchtorecognizethetypeofsoilisgoodtogrow the crop. On the basis of the study, it is concluded that there are 3 types of soil available and they are all uveal soil, red soil, and black soil. .Everysoilhasdifferentmicronutrient.Buttomeasuretheamountofnutrientavailableinthesoilwearegoingtodesigndeviceorinstrumentwhichgivesusproperreading of micronutrients. Followingarethemainobjectives oftheproposedsystem
Design and develop an Arduino-based sensor interfacing for reading soil parameters.
Buildainterfacebetween LCDandmicrocontrollerto showthesensorreadings
Convertingthesensor value usingADCport of Arduino.
Establishing the cloud server connectivity in order to store all soil test records over the server with time and GPS location stamps.
HIGHLIGHTS
SmartAgricultureisfocusedonsoil,weatherandcropconditions.Giventheimportanceofweatherandirrigation,manySmartFarmingsolutions arecoupled withSmart Environment(AirQuality)andSmartWater(Pollution,Turbidity,Nutrients)foracompletesolution.ThemostcommonIoTsensorsarelistedbelow:
In this project, we will learn about IoTBasedSoilNutrientMonitoring&Analysissystems using Arduino& ESP32.Soilisthebaseofagriculture.Soil provides nutrients that increase the growth of a      Some chemical and physical properties of soil,   such as its moisture, temperature, soil nitrogen,phosphorous&potassium content heavily affect the yield of a crop. These properties can be sensed by the open-source hardware, and they can be used in the field.
In this project, a soil Nutrient monitoring & analysis system is proposed in which the farmer will be able to monitor soil moisture, soil temperature, and soil nutrient content like Nitrogen, Phosphorous & Potassium. The farmer can monitor all these parameters wirelessly on a mobile phone or the System.
To measure the soil moisture,wewilluseaCapacitiveSoilMoistureSensor. The temperature of the soil can be measured using the DS18B20 Waterproof Temperature Sensor. Similarly, in order to measure the Soil NPK Values, we will use a Soil NPK Sensor. All these sensors can be easily interfaced with Arduino.
WewillusetheThingspeakServertoMonitorthedataingraphical&numericalformat.Wendi Fi network in the field to send the data to the server. But the agricultural field doesn't have access to these networks. In order to solve this, we will use the NRF2401 WirelesstransceiverModule to send the data from the sensor   Node to      The data from the transmitter canbetransmittedwirelesslyfromakilometerdistancetotheReceiver.The receiver is built using ESP32 WI-Fi Module, which has access to Wi-Fi Network. Using this network, the data can be uploaded to a thing speak server.
So,let'sbuildanIoTBasedSoilNutrientContentAnalysis,Monitoring&TestingSystemsimplyusingWireless SensorsNetwork, Arduino& ESP32.
BLOCK DIAGRAM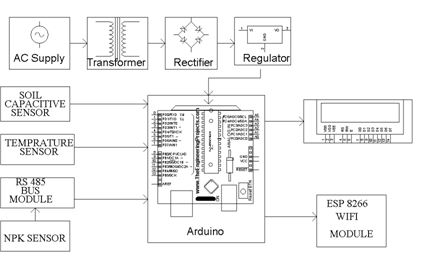 HARDWARE REQUIREMENTS
Transformer
Rectifier
Regulator
Arduino
Lcd display
Soil capacitive sensor
Temperature sensor
Rs 485 bus module
Npk sensor
8266 Wi-Fi module
SOFTWARE REQUIREMENTS