Description
In this processed system, we are monitoring the earthquake, if any vibration/ tilt of the earth's surface takes place; the system will alert us and send the data over IOT page. So to avoid the life loss and economic loss we are developing this device.
In this project we are using Arduino board i.e. the heart of project, 2-vibrator sensor, 2-accelerometer, LCD display. An accelerometer is an electromechanical device used to measure acceleration forces and also for sensing vibrations in systems or for orientation applications. So when some orientation according to x-axis, y-axis or z-axis happens to the earth's surface then it will display a message on LCD that there is Earthquake. And also sends data on IOT page through Wi-Fi module.
Vibration sensor used for sensing vibrations coming out from the earth or shaking of the earth's surface then vibration sensor will send the signals to the arduino and arduino will send the data over IOT page. So whenever vibration sensor gives a vibrations then buzzer will beep and also displayed a message on LCD that it is an EARTHQUAKE. We are presenting the output of both sensors i.e. the vibrator sensor and the accelerometer in graphical structure. Depending on those graphs/pulses we can identify that how intense the earthquake is. Thus this system creates an alert regarding earthquake.
HIGHLIGHTS
In this processed system, we are monitoring the earthquake, if any vibration/ tilt of the earth's surface takes place; the system will make alert and monitor each status over IOT.
So to avoid the life loss and economic loss we are developing this device.
An accelerometer is an electromechanical device used to measure acceleration forces and also for sensing vibrations in systems or for orientation applications
So when some orientation according to x-axis, y-axis or z-axis happens to the earth's surface then it will display a message on LCD that there is Earthquake.
Vibration sensor used for sensing vibrations coming out from the earth or shaking of the earth's surface
BLOCK DIAGRAM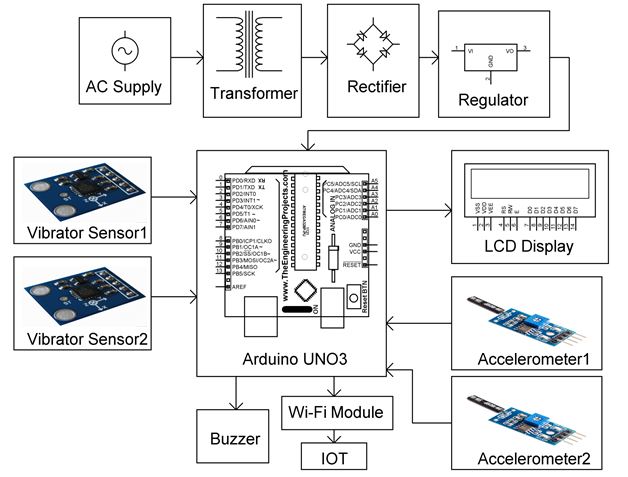 HARDWARE REQUIREMENTS
Arduino UNO
Vibrator sensor
Accelerometer sensor
Buzzer
LCD display
SOFTWARE REQUIREMENTS
Arduino: Programming language
Eagle