Description
The project is designed to control home circuit by using a personal computer (PC) for the safety of old persons, handicapped, who is most busy and some where human can't reach easily.
This proposed system provides a solution that ensures safety and easy for users. The control to turn ON /OFF the home appliances will be maintained by the authorized person only because this system has an arrangement such that a password is required to operate the circuit breaker (On/Off).
This system is fully controlled by a microcontroller from the 8051 family. A USB to serial is interfaced to the microcontroller and hyper terminal used to enter the password. The entered password is compared with the password stored in the ROM of the microcontroller. If the password entered is correct, then only the line can be turned On/Off.
Furthermore, this project in future can be enhanced by using EEPROM, for the user to change the password for more secured system interaction. It can also be interfaced with a GSM modem for remotely controlling the circuit breaker via SMS.
PC CONTROLLED HOME APPLIANCES
NOTE = Pc controlled home appliances is project of the last year engineering project, BE final year engineering project. This project is used for the BE last year electrical and electronics engineering department students. This project is last year electronics engineering department students. This project is BE last year electrical Engineeringdepartment students.
Pc controlled home appliancesis the project of a good price for the electronics and electrical engineering projects. It is a very comparative engineering project. It is a very good BE final year project. This project is microcontroller based project.
The engineering projects give in the ELECTROSAL HI- TECH PVT.LTD. The best place for the degree and diploma final year engineering projects as well as for electrical and electronics students' final year for the golden opportunity.
Pc controlled home appliancesis an easy project and idea for the electrical and electronics degree and diploma base students and 100% output is done.
HIGHLIGHTS
Designed to control home circuit by using personal computer
This proposed system provides a solution that ensures safety and easy for users
A USB to serial is interfaced to the microcontroller and hyper terminal used to enter the password
The entered password is compared with the password stored in the ROM of the microcontroller
BLOCK DIAGRAM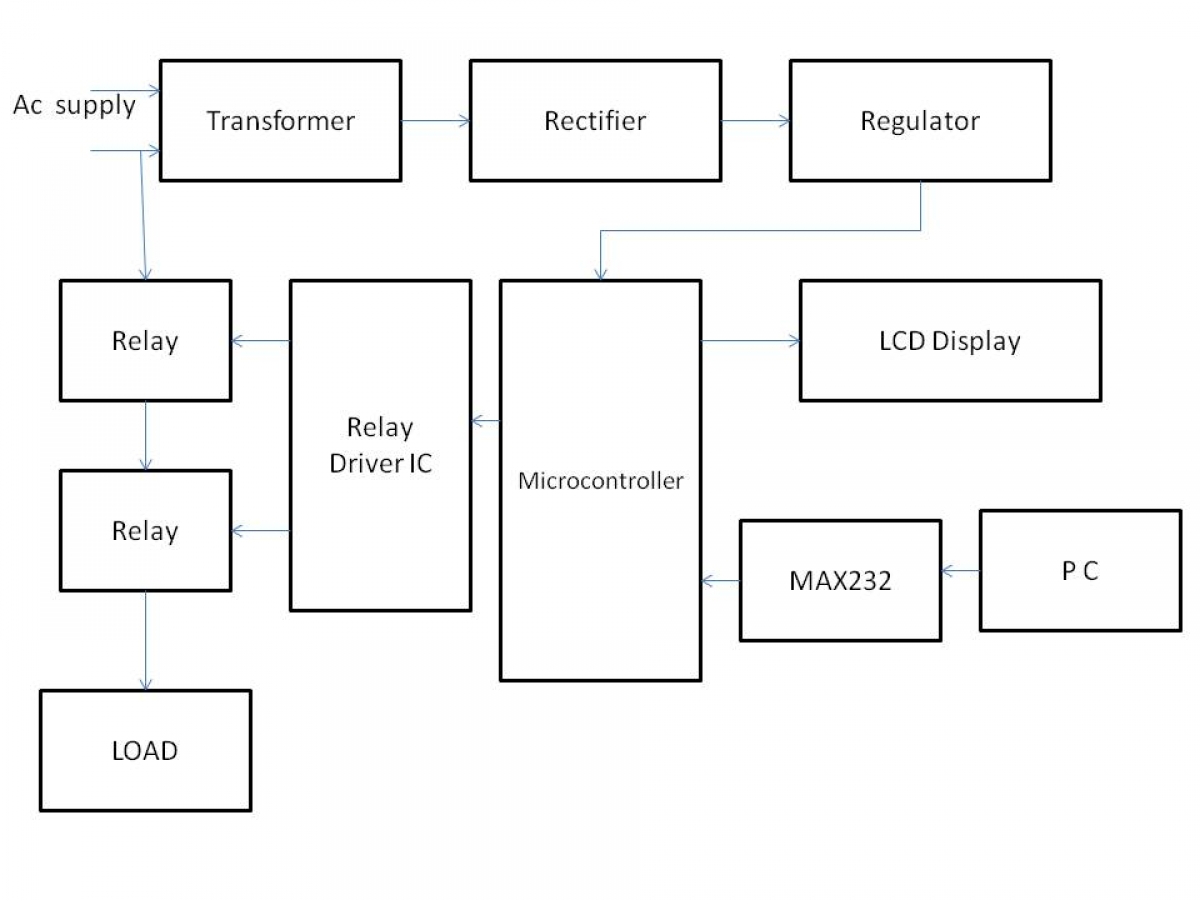 HARDWARE REQUIREMENTS
Microcontroller
ULN2003
Relay
LCD Display
Trasformer
MAX232
Load
SOFTWARE REQUIREMENTS