Description
The main objective of this project is to develop a home automation system with GSM application controlled by message. As technology is advancing so houses are also getting smarter. Modern houses are gradually shifting from conventional switches to centralized control system, involving wireless controlled switches. Presently, conventional wall switches located in different parts of the house makes it difficult for the user to go near them to operate. Even more it becomes more difficult for the elderly or physically handicapped people to do so. Message controlled home automation system provides a simpler solution with GSM technology.
Remote operation is achieved by any simple handset etc., with sends messages act as transmitter, which sends ON/OFF commands to GSM device which receive the message signal from user and gives to the microcontroller where loads are interfaced. By operating the specified remote switch on the transmitter, the loads can be turned ON/OFF by sending message through wireless technology. The microcontroller used here is of 8051 family.
– GSM MESSAGE CONTROLLED HOME APPLIANCES
NOTE = GSM message controlled home appliances is project of the last year engineering project, BE final year engineering project. This project is used for the BE last year electrical and electronics engineering department students. This project is last year electronics engineering department students. This project is BE last year electrical Engineeringdepartment students.
GSM message controlled home appliancesis the project of a good price for the electronics and electrical engineering projects. It is a very comparative engineering project. It is a very good BE final year project. This project is sensor based project and idea for projects. This project is microcontroller based project.
The engineering projects give in the ELECTROSAL HI- TECH PVT.LTD. The best place for the degree and diploma final year engineering projects as well as for electrical and electronics students' final year for the golden opportunity.
GSM message controlled home appliancesis an easy project and idea for the electrical and electronics degree and diploma base students and 100% output is done.
HIGHLIGHTS
Home appliances controlled by message
Microcontroller receive signal from GSM
Microcontroller is interfaced to load
Load is ON/OFF by receiving signal from controller
BLOCK DIAGRAM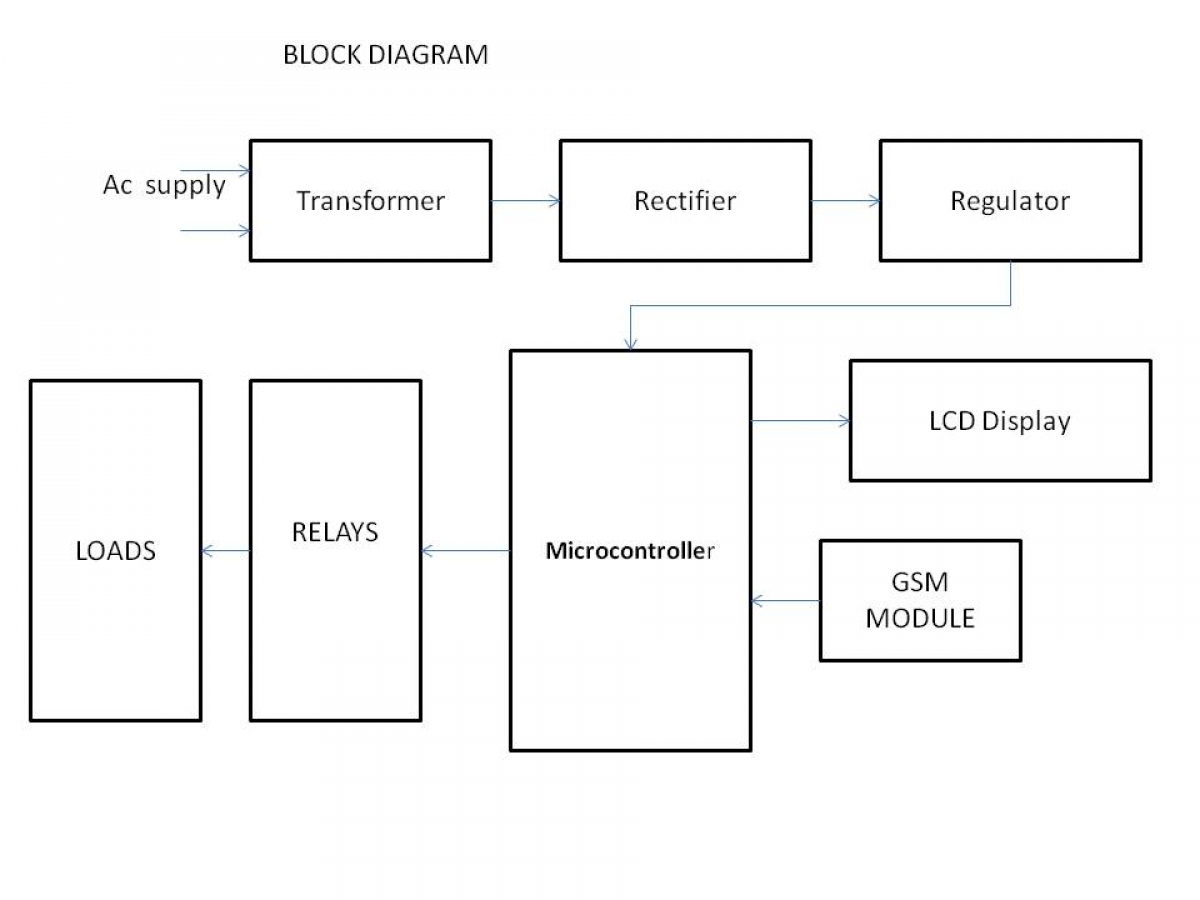 HARDWARE REQUIREMENTS
Microcontroller
GSM Module
ULN2003 relay driver ic
Relays
LCD Display
LOAD
Transformer
SOFTWARE REQUIREMENTS