Description
The main objective of this project is to provide priority-wise power supply to a load, by selecting the supply source from any available one out of 4 such as mains, generator, inverter, and solar in the absence of power supply. The demand for electricity is increasing every day and frequent power cut is causing many problems in various areas like industries, hospitals, and houses. An alternative arrangement for a power source is thus desirable.
This project employs four switches to demonstrate/activate the respective failure of the source of the power supply. When any of the switches is pressed, it shows the respective supply source is available. Switches are connected to the Arduino board as input signals. The output of the Arduino board is given to the relay driver IC, which switches the appropriate relay to maintain priority base supply to the load. Output is observed using a LEDs drawing power from the mains initially. On the failure of the mains supply (which is actuated by no pressing action to the switch) then it will display no supply available. When we press the switch1 which is indicated to solar source then it is showing on LCD that supply1 is available. The same process is repeated for mains supply i.e.230v, inverter supply, and generator respectively.
If supply1(solar) and supply3(230 mains) is at a time gets ON then the priority goes to the supply1 i.e. solar supply source. If solar and inverter supply is at a time working then also the priority goes to the 1st one i.e. to the solar source. If 230 mains and inverter supply are at a time working then the priority goes to the 230mains source. So if any of the two supply working at a time then always the priority goes to the respective first one.
The project can be further enhanced by using other sources like wind power also and then can take into consideration the best possible power source – the one whose tariff remains lowest at a given moment. Here we are using GSM. GSM will send the SMS when the supply changes.
HIGHLIGHTS
Advanced project
SMS Alert
GSM based system
Supply selection according to available supply
BLOCK DIAGRAM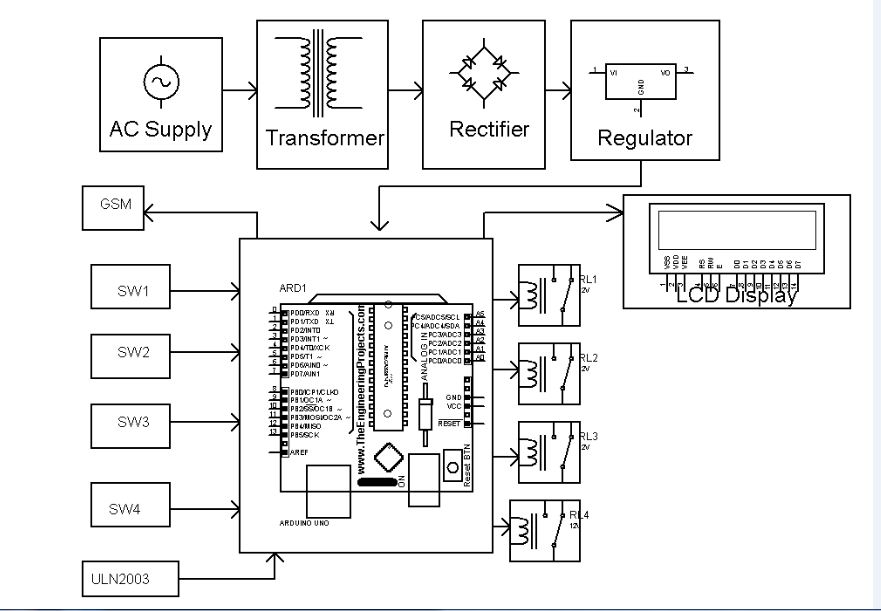 HARDWARE REQUIREMENTS
ARDUINO UNO
LCD
RELAY DRIVER IC
RELAY
SWITCHES
GSM
SOFTWARE REQUIREMENTS