Description
In India, railway transportation service is the cheap and the majority convenient mode of passenger transport and also for long-distance and suburban traffic. The main cause of the accidents happened in railways are railway track crossing and unrevealed crack in railway tracks. Therefore, there is a need to have new technology which will be robust, efficient, and stable for both crack detection in railway track as well as to object detection. This project discusses a Railway track crack detection using sensors and is a dynamic approach that combines the use of a GPS tracking system to send alert messages and the geographical coordinate of location. Arduino Microcontrollers used to control and coordinate the activities of this device.
The Indian Railways consists one of the largest railway networks in the whole world, crises-crossing over 1, 15,000 km in distance, all over India. However, with regard to reliability, dependability, and passenger safety of Indian Railways is not up to the global standards. Among other factors, the cracks are developed on the railway tracks due to absence of the inefficient timely detection Our work involves a project that aims of designing a railway crack detection system (RCDS) using an Ultrasonic Sensor, The GSM (Global System for Mobile Communications), GPS (Global Positioning System) and Arduino based module whose implementation is an efficient method of detecting the cracks which are present in the tracks and thus avoiding derailment of the trains.
In this project, we are using an ultrasonic sensor which is used to find the crack in the railway track And also capable of alerting the authorities in the form of SMS messages along with location by using GPS and GSM modules.
HIGHLIGHTS
Advanced project
SMS Alert
GSM and GPS based project
Rail track crack detection
BLOCK DIAGRAM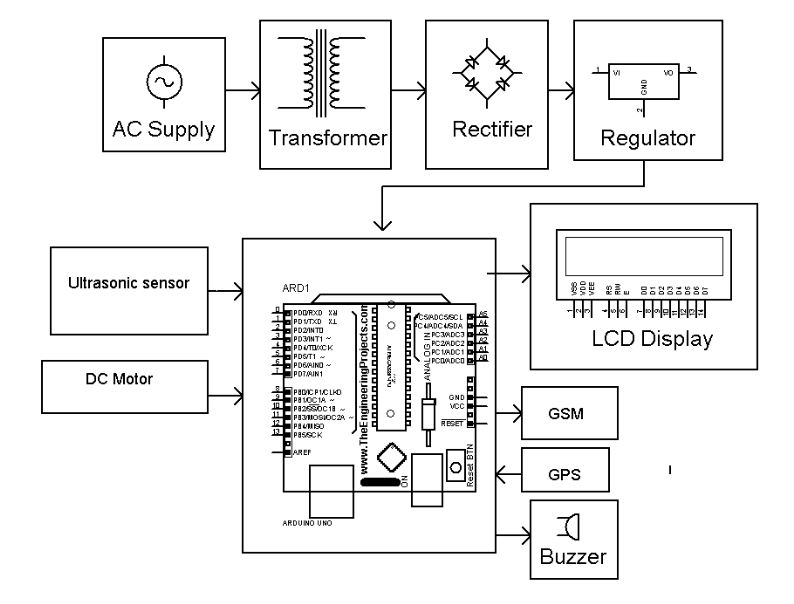 HARDWARE REQUIREMENTS
Arduino uno
LCD
GSM
GPS
Ultrasonic Sensor
DC motor
SOFTWARE REQUIREMENTS