Description
The main aim of this project is to alcohol detection based speed control of vehicle measure alcohol level without any contact and determine its level using alcohol sensor.
The proposed system uses an alcoholic sensor which is placed ahead of the vehicle, function hall, meetings, and many private sectors. Alcohol sensor to detect the alcoholic level through the atmospheric air. If the alcohol level changes occur, then the sensor measures the level at a fixed point. Whenever the alcohol level increases above the set point then The whole system is controlled by the Arduino controller.
The project uses an Arduino board which is programmed to receive the input signal of varying alcohol conditions of the vehicle driver through a sensing arrangement. Once the controller receives this signal, it generates an output that drives for operating the system which controls the speed of the vehicle.
The concept in the future can be enhanced by integrating IoT technology, such that whenever an alcohol sense system switches on/off, and data will be sent to the website.
NOTE:
Alcohol detection based speed control of vehicle for the good price for the engineering projects. It is very comparative engineering project. It is very good BE final year and Diploma projects. This projectelectrical departments and electrical students in final year students is use.For the last year engineering project for the core electronics departmentand mechatronics students is use.
Alcohol detection based speed control of vehicle for the arduino microcontroller basedfor the good project, excellent project for the BE last year engineering student is use for the core electrical student is use and electronics and mechatronics students is use this project is sensor based project . This project for the competitive project in the BE robotics based project last year engineering student for core electrical student electrical in last year engineering student in the use.
The engineering projects give in the ELECTROSAL HI- TECH PVT.LTD. The best place of the degree and diploma final year engineering projects as well as for electrical students and electrical final year and for the golden opportunity.
Alcohol detection based speed control of vehicle it is the best projects for the electronics,final year student is use  and idea for the electronics and electrical degree and diploma base students and 100% output is done.
HIGHLIGHTS
The main aim of this project is to alcohol detection based speed control of vehicle
It will measure alcohol level without any contact
The whole system is controlled by the Arduino controller
BLOCK DIAGRAM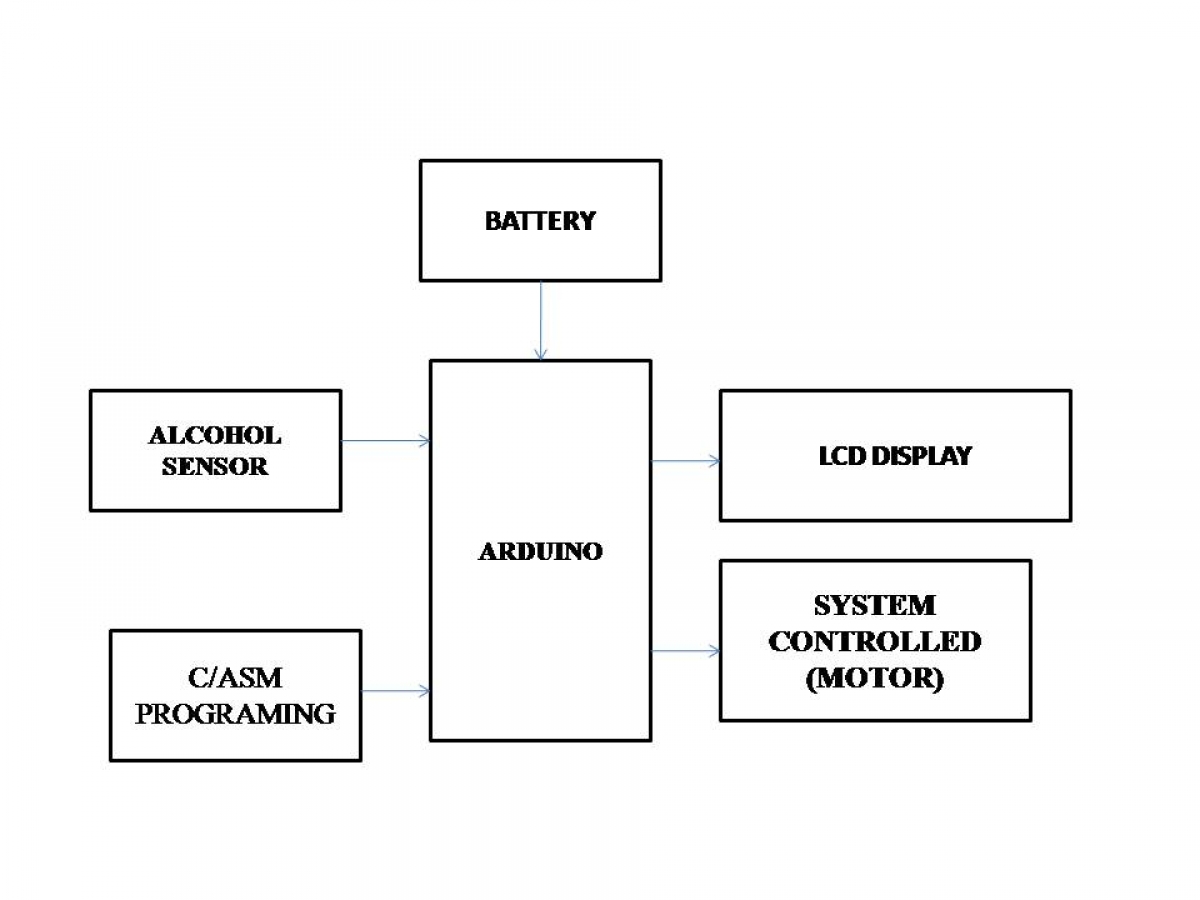 HARDWARE REQUIREMENTS
Alcohol Sensor
Arduino ic
L293D motor driver
LCD Display
chassy
Battery
Motor
SOFTWARE REQUIREMENTS