Description
Internet of Things is composed of things that have unique identities and are connected to each other over the internet. It is simply connecting and monitoring various devices and sensors through the Internet. This paved the way for home automation and monitoring which makes human life more comfortable and secure. This paper describes the overall notion of the IoT-based sensing systems and monitoring systems for implementing an automated home. The proposed prototype uses ESP 8266 board with the internet being remotely controlled by an Android OS smartphone. ESP is the heart of this system and it can perform as a micro web server and it acts as an interface for a wide range of hardware modules. To control lights, fans, and other home appliances which are connected to the relay system, the system offers switching functionalities. It is also used for environmental monitoring by sensing and analyzing data about temperature and humidity. Another notifying feature in this system designed is the intrusion detection which is offered by this system using motion sensors.
The Internet of Things (IoT) refers to a system of interrelated, internet-connected objects that are able to collect and transfer data over a wireless network. It used to be controlled by websites and smartphone applications remotely. A smart home to operate lamps or other home-use devices can be used as a security system or an industrial-use system, for example, to open or close the main building gate, to operate a fully automatic industrial machine, or even to control the internet and communication ports using IoT technology. Huge industrial facilities or governmental institutions have many lamps. Employees sometimes forget to turn them off at the end of the day. This research suggests a solution that can save energy by letting the security control the lighting of the building with his smart home by Blynk application. The lamps can be controlled by switches distributed in the building and Blynk application at the same time with a certain electrical installation.
Note
Iot based home automation using blinkis the project of last year's engineering project, BE final year engineering project. This project is used for BE last year electrical, electronics, core electrical department students is used. This project is core electronics based project. This project is use for the electrical students. This projects is iot based projects
Iot based home automation using blink.it is a very comparative engineering project and electrical project electronics project. It is a very good BE core electrical final year and diploma final year core electronics based project.it is project for arduino based project idea for the electrical projects is a iot blink app based project.
The engineering projects give in the ELECTROSAL HI- TECH PVT.LTD. The best place for the degree and diploma final year engineering projects as well as for electrical students 'electronics student final year for the golden opportunity.
Iot based home automation using blink is an easy project and idea for the electrical degree and diploma and electronics base students & 100% output is done.
HIGHLIGHTS
IoT based projec.
Modern technology is used like Smart home appliances.
This system is operated by the Blynk platform at the user end.
BLOCK DIAGRAM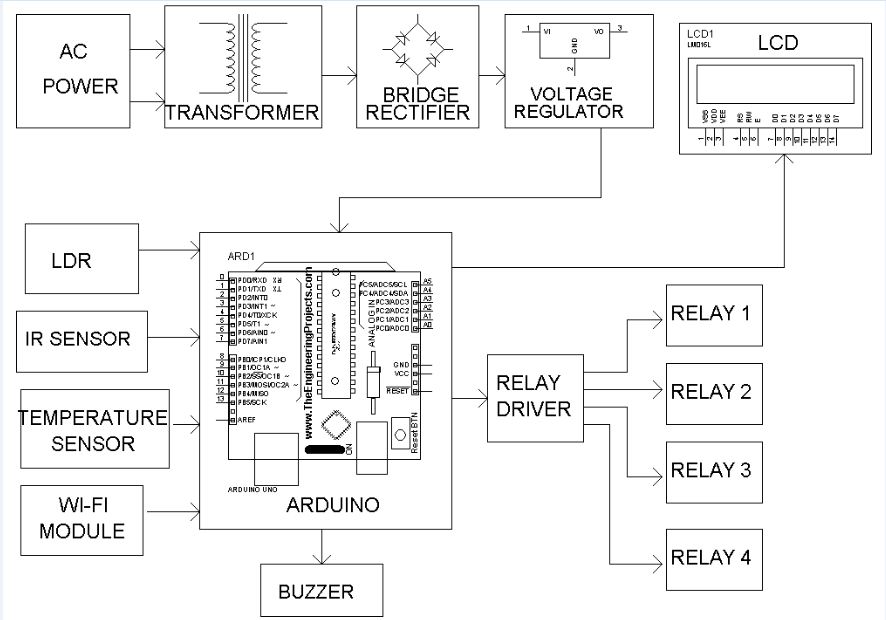 HARDWARE REQUIREMENTS
Arduino UNO
Wi-Fi module ESP 8266
IR sensor
LDR
Temperature sensor DHT11
Relay
LCD
Relay driver uln 2003
Transformer
Bridge rectifier
Regulator
SOFTWARE REQUIREMENTS