Description
The main intention of this project is to develop an fan motor speed control system which is helpful to control the speed of fan motor using TRIAC and RF communication.
In this project, the zero-crossing point of the voltage waveform is detected by a comparator whose output is then fed to the microcontroller. And microcontroller also interfaced to RF decoder it takes signal from the RF Encoder. As signal come from encoder the speed of fan motor will decreases or increases Then, it provides the required delayed triggering pulses to a pair of SCRs through an opto-isolator connected to this circuit. Finally, power is applied to the load through the SCRs. 4 push-button switches are interfaced to the controller one is for increasing and one is for decreasing the AC power to the load also one is for totally off and 100% ON . In this project, a lamp is used in the place of induction motor demonstration purposes. The motor speed variation depends on the power reduction.
This project in future can be enhanced by using 2 such units in any 3-phase supply for 3-phase induction motor.
Note add
Speed control of fan using RF remote for the good price for the engineering projects. It is very comparative engineering project. It is very good BE final year electronics sensor based project and this project is diploma based student is use. For the project is the microcontroller base project and RF remote base project. This project is embedded based project,
Speed control of fan using RF remote is the microcontroller based project for the good project, excellent project for the BE last year engineering student is use for the student is use electronics and electrical student is use.  This project  for the competitive project in the BE electronics embedded based project last year engineering student for the electronics and electrical student in last year engineering student in the use. This project is the embedded based project
The engineering projects give in the ELECTROSAL HI- TECH PVT.LTD. The best place of the degree and diploma final year engineering projects as well as electronics student is use
Speed control of fan using RF remote the best projects of the RF remote sensor base for the electronics in final year student is use  and idea for the and  degree and diploma base students and 100% output is done.
HIGHLIGHTS
• The microcontroller used here is of 8051 family.
• Control the speed of fan motor using TRIAC and RF communication.
• RF Encoder and RF decoder used for controlling the fan motor
BLOCK DIAGRAM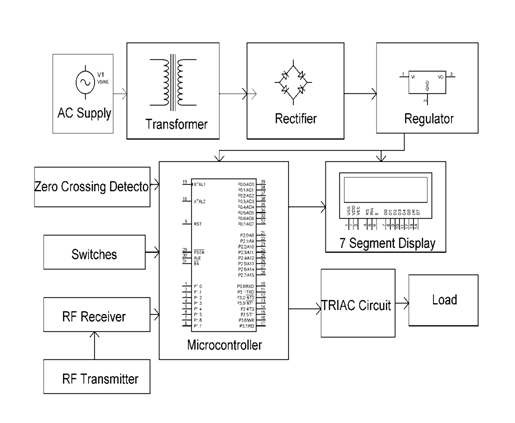 HARDWARE REQUIREMENTS
• Micro-controller
• Bulbs
• Transformer
• Seven segment
• Remote Module
RF transmitter
RF receiver
Zero crossing detector circuit
TRIAC circuit
SOFTWARE REQUIREMENTS