Description
The project is designed to develop an advanced green house system that shows sensing the moisture content of the soil. In the field of agriculture, Gas level,  humidity and temperature send to user. Depend on that user will take action like "motor on" and "motor off" use of proper method of irrigation is important. The advantage of using this method is to reduce human intervention and still ensure proper irrigation.
The project uses an Arduino board which is programmed to receive the input signal of varying moisture condition of the soil through a sensing arrangement. This is achieved by using an op-amp as comparator which acts as interface between the sensing arrangement and the arduino controller. And Gas sensor, humidity sensor and temperature is directly interfaced to controller as signal fed to controller. Controller send sms to user depend upon that condition user will take action in this case GSM is interfaced to controller user send message like "motor on" or " motor off"  Once the controller receives this signal, it generates an output that drives a relay for operating the water pump.
An LCD display is also interfaced to the controller to display the status of the soil and water pump. The sensing arrangement is made by using two stiff metallic rods or a 2 tracked PCB inserted into the field. The connections from them are interfaced to the control unit.
Note
Advance base green house for the good price for the engineering projects. It is very comparative engineering project. It is very good BE final year electrical arduino sensor based project and this project is diploma based student is use. For the project is the sensor base project and arduino base project. This project is electrical, electronics based project,
Advance greenhouse over gsm is the arduino based project for the good project, excellent project for the BE last year engineering student is use for the student is use electrical student is use.  This project  for the competitive project in the BE electrical sensor based project last year engineering student for the electrical student in last year engineering student in the use.
The engineering projects give in the ELECTROSAL HI- TECH PVT.LTD. The best place of the degree and diploma final year engineering projects as well as electrical student is use
Advance greenhouse over gsm the best projects of the arduino base for the electrical in final year student is use and idea for the and  degree and diploma base students and 100% output is done.
HIGHLIGHTS
The project is designed to develop an advanced green house system that shows sensing the moisture content of the soil
The advantage of using this method is to reduce human intervention and still ensure proper irrigation
An LCD display is also interfaced to the controller to display the status of the soil and water pump
BLOCK DIAGRAM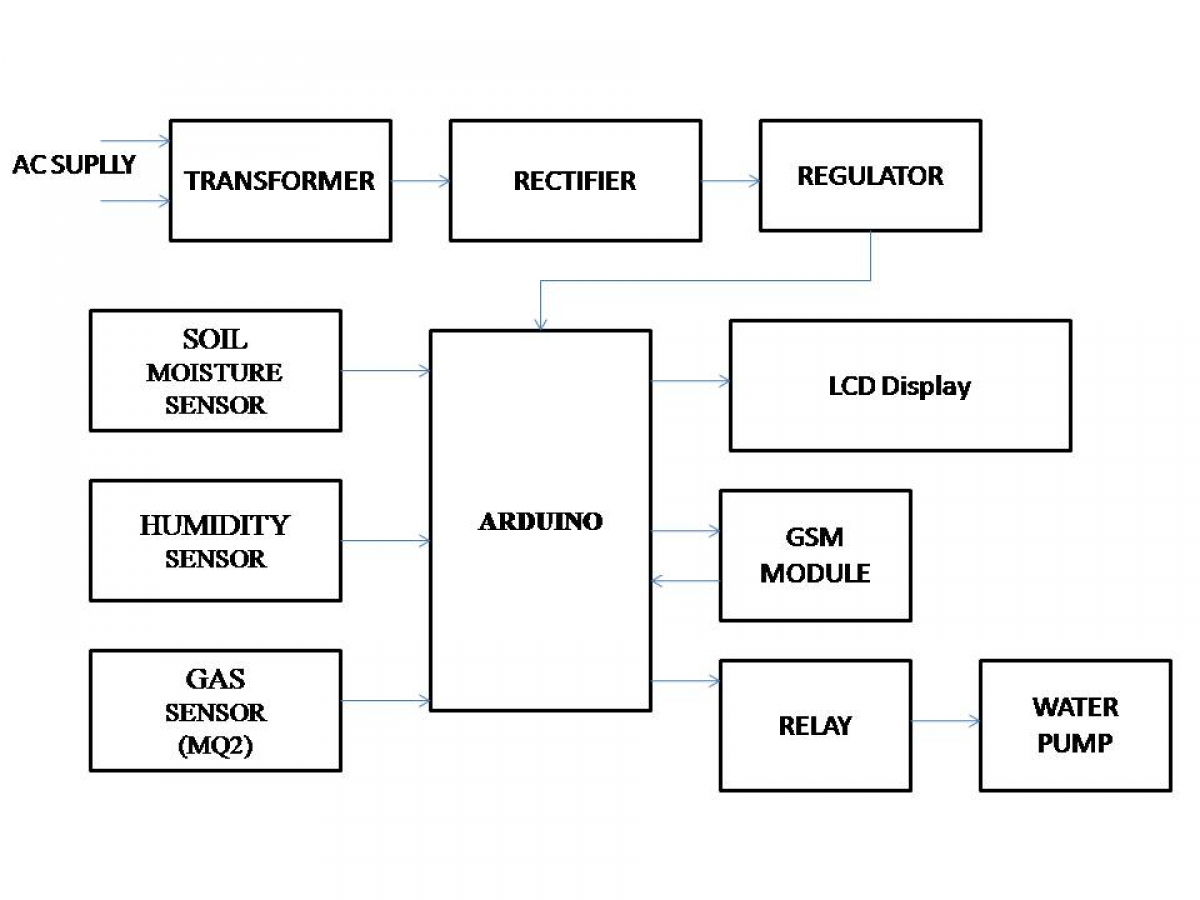 HARDWARE REQUIREMENTS
Arduino
LCD Display
GSM
SOIL MOISTURE SENSOR
HUMIDITY SENSOR (DHT11)
GAS SENSOR (MQ 2)
RELAY
WATER PUMP
SOFTWARE REQUIREMENTS