Description
The main intention of this project is to provide protection for a single-phase pump motor by applying initial voltage gradually from low to high for obtaining soft start. The pump motor draws more current than its rated capacity during their starting condition which may lead to the damage of the windings of the motor. In order to avoid this problem, applied voltage is gradually increased from low to high so that the soft start of the pump motor is performed.
This project consists of two anti-parallel SCRs connected in series with an induction motor to the supply. The time to start the firing angle is heavily delayed by receiving delayed pulses from the operational amplifier. The op-amp operates in comparator mode that compares to zero voltage pulses to develop a sawtooth voltage which is further compared against a varying voltage by charging and discharging of a capacitor to develop delayed pulses for triggering the SCRs. A lamp is provided in this project in place of an induction motor for demonstration purpose.However a motor of 0.25 HP ( not supplied by us) can be used.
Furthermore, the project can be enhanced by using six SCRs: two connected back to back for each phase.
NOTE:
Soft start of single phase induction motor for the good price for the engineering projects. It is very comparative engineering project. It is very good BE final year and Diploma projects. This projectcore electronics departments and electrical students in final year  is use.For the last year engineering project for the power electronics department students is use.
Soft start of single phase induction motor for the withoutmicrocontroller basedfor the good project, excellent project for the BE last year engineering student is use for the student is use and power electronics and students is use. This project for the competitive project in the BE electrical  based project last year engineering student for core electrical student electrical in last year engineering student in the use.
The engineering projects give in the ELECTROSAL HI- TECH PVT.LTD. The best place of the degree and diploma final year engineering projects as well as electrical  student is use
Soft start of single phase induction motor it is the best projects for the power electronics,final year student is use  and idea for the electrical and core electrical degree and diploma base students and 100% output is done.
HIGHLIGHTS
Provide Protection for a single phase pump
Applying initial voltage gradually from low to high.
Two anti-parallel SCRs connected in sesies
the op-amp operates in comparator mode
BLOCK DIAGRAM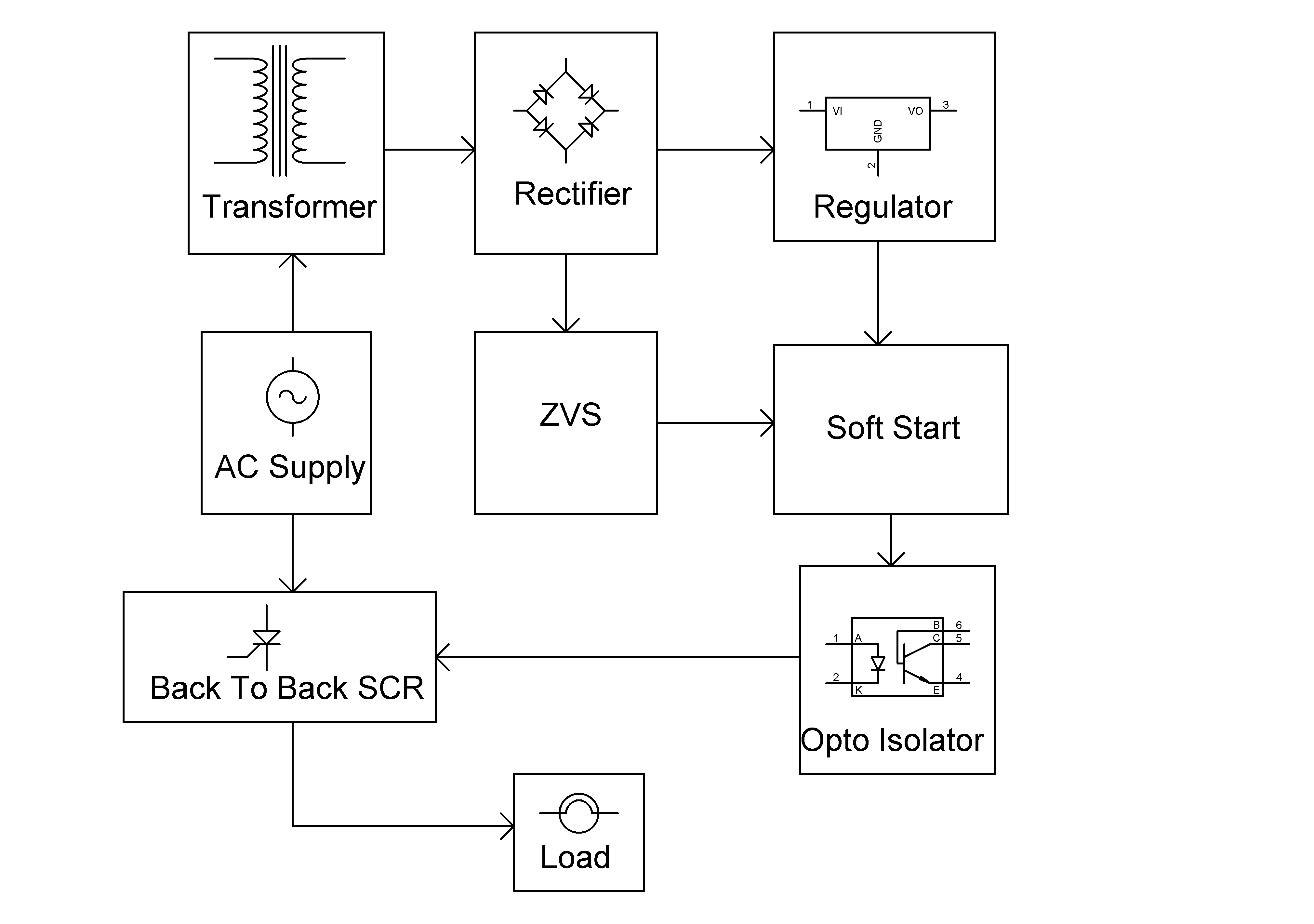 HARDWARE REQUIREMENTS
LM339
LM324
op-amp
SCR
Capacitor
load
transformer
SOFTWARE REQUIREMENTS