Description
The main objective of this project is to develop Coin based mobile charger by using a Timer IC along with circuits of IR sensor which we putting the coin inside it and relay of the charger is automatically ON for particular time.
An arrangement operates user putting their coin inside IR sensor which are placed opposite to each other Rx and Tx. while coin is putted in it the ray will break and comparator signal gives to timer IC which interfaced to taking as input. As soon as coin inserted the relay will ON like this time set by preset value. Now days it is necessary because everyone is having his own mobile and person is in the unknown placed then this system will works properly. Instead of asking anyone it's better to put coin and charge mobile. This project is more helps for the passengers to develop and placed in bus stand, railway station etc. A standard power supply is used. A buzzer indicates the charging time is beginning and LED indicates charging is ON/OFF.
Note
Coin base mobile charger for the good price for the engineering projects. It is very comparative engineering project. It is very good mini project , school project student is use. For the project is the sensor base project and electronics base project. This project is core electrical sensor based project,
Coin base mobile charger is the timer based project for the good project, excellent project for the BE last year engineering student is use for the student is use power electronics student is use.  This project  for the competitive project in the BE electronics sensor based project last year engineering student for the electronics student in last year engineering student in the use.
The engineering projects give in the ELECTROSAL HI- TECH PVT.LTD. The best place of the degree and diploma final year engineering projects as well as core electronics student is use. Sensor base project .
Coin base mobile charger the best projects of the arduino base for the electronics in final year student is use and idea for the and degree and diploma base students and 100% output is done.
HIGHLIGHTS
The main objective of this project is to develop Coin based mobile charger by using a Timer IC
Now days it is necessary because everyone is having his own mobile
Instead of asking anyone it's better to put coin and charge mobile
This project is more helps for the passengers to develop and placed in bus stand, railway station etc
A standard power supply is used
BLOCK DIAGRAM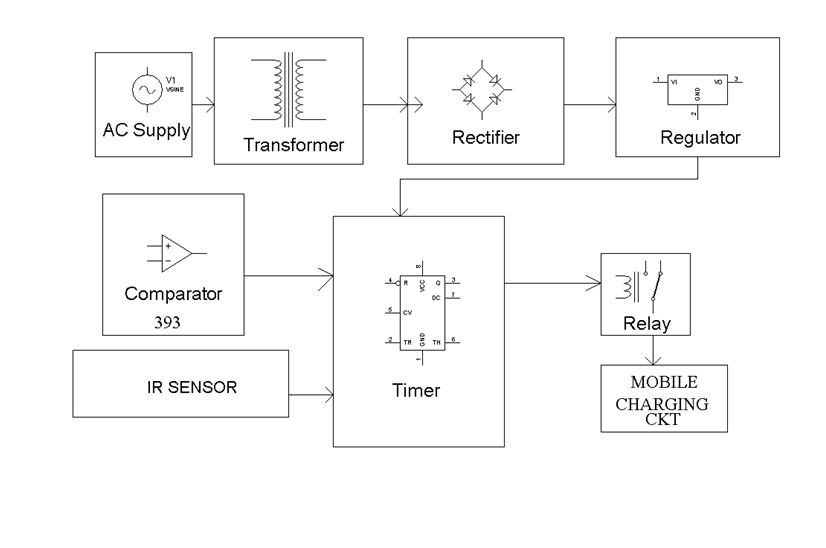 HARDWARE REQUIREMENTS
Timer IC
IR sensor
Transformer
Voltage regulator circuit
Buzzer
555 IC
SOFTWARE REQUIREMENTS